---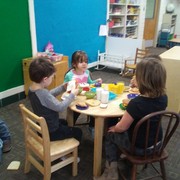 Please click on the image to view the slideshow. Andrew, Emma, and Jalayna enjoy a meal together!
---
Mrs. Bolen - Classroom Spotlight
Hard to believe we are down to our last few weeks in pre-school! Our class has been working hard on getting ready for Kindergarten- but we always have time for fun! We have enjoyed getting to getting to know each other better through the year, especially playing together in our classroom and outside! Our favorite class unit this year has been In the City, In the Country. To go along with this, we read "Mrs. Wishy-Washy's Farm" and set up our own "mud puddle" and "bath" that was a pretty popular center!
We are currently finishing our unit on Growing and Changing, at the end of which we will plant our own seeds! We've all come a long way this year, especially as we grow and change, too. In addition to our structured learning, we also have come a long way in solving our problems, talking before tattling, and trying things on our own-but still asking for help when needed!
It's been a great year in pre-school, and we are all looking forward to getting outside for some spring activities soon!