---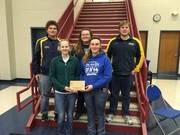 2nd Place Section 1 Agronomy CDE Team.
---
Forreston FFA Has Successful Winter Season
The Forreston FFA Chapter has had a very busy winter season this school year. The Agronomy team placed 2nd at the Section 1 CDE at Eastland. Anna Snider was 3rd Overall Individual. Sheyania Hughes took 1st Place in the Section 1 Job Interview CDE held at Highland College and will compete in the District 1 CDE in April. On January 9, our Parliamentary Procedure team placed 3rd at the Section 1 CDE. Our team took 1st Place in the Section 1 Poultry Judging CDE held at River Ridge High School on Feb. 1. The team consisted of Aaron Wubbena, Michael Wubbena, Sheyania Hughes, Anna Snider, and Liam Kuhn. The team will compete at the State FFA Poultry CDE in Champaign in April. Brooklynn Hollis won the Section 1 Dairy Production Award for her record books on Feb. 20. She will compete at the District 1 contest at Geneseo in March. Contests coming up in the near future include Food Science and Vet Science on Feb. 28, Livestock and Dairy Judging on March 18, Horticulture on March 29, the State Dairy CDE in Centralia on March 31, and the Section 1 Ag Mechanics CDE on April 10.
FFA Week is Feb. 19-25. We have a large variety of activities scheduled for this week. Forreston hosted the Section 1 FFA Basketball Tournament as an early kick-off last week. Our theme days this year include Truck/Americana Day, Duct Tape Day, and Blue & Gold Day on Friday. Our annual FFA Fun Night is scheduled for Wednesday, Feb. 22. To round out our week of festivities, Dr. Jim Wand, a nationally known hypnotist, will present an assembly for the entire Forreston Jr./Sr. High School student body on Friday, Feb. 24. Dr. Wand is a former FFA member from the Elizabeth FFA Chapter, now River Ridge, and has performed at the National FFA Convention numerous times.
The annual Forreston FFA Alumni Toy & Craft Show will be held on Saturday, March 11, from 9 AM to 3 PM. Our featured toy tractor this year is an Oliver 1755.